Patina Sunset Challenge
The super talented Melinda Orr is hosting a perfect Indian Summer challenge -- just as the light changes & the days grow shorter, and we ready our homes & lives for fall -- Paint the Sky with Patina!
I'm loving the challenge because I recently interviewed Lisa Liddy (interview upcoming) and I personally collect "Color Me This" hand-blended patinas just as I collect beautiful beads! "Color Me This" is a part of "Metal Me This" on Etsy, with over 30 patina colors to choose from! Colors are versatile, ranging from deep, rich shades to soft & subtle ones.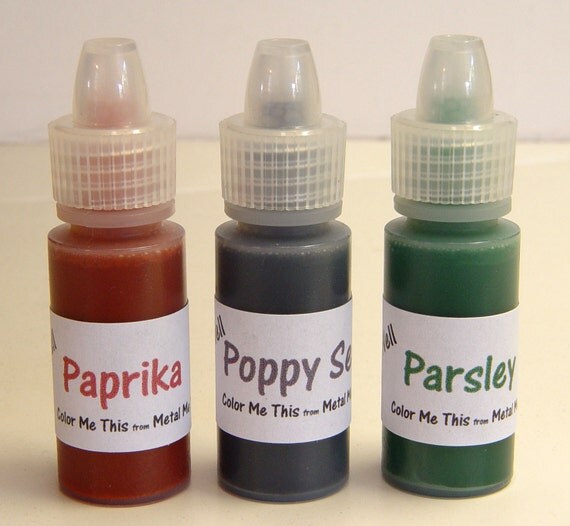 Colors like "Spice" shown above, "Retro" (Pepto Pink, Cornflower Blue, & Tangerine) and "Tahiti" (Sea Green, Orchid, & Black Pearl) come in 3 packs -- as well as 6 packs. The mix & match sets allow you to choose colors like Red Velvet, Paprika, Sapphire, Inca Gold. And then there's my favorite, buy by the dozen.
I think I have almost every color Lisa has blended!
My Entry for the Patina Sunset Challenge:
I created both patina components and handcrafted jewelry using those components for both parts of the challenge with my October earrings! I used Color Me This ifn
turquoise
and paprika to color the copper discs, and added copper splashes made from heating copper to liquid & cooling. I used a copper splash in warm gold and rose and pumpkin tones on top of the cool vivid turquoise patina, and reversed this with cool olive and peridot greens and iris violet tones on top of the spicy paprika patina. I then sealed the patina and splashes with Permalac in matte to ensure the colors would stay a long time. Lastly, I punched holes in the bottom of the copper discs and added owls by Andrew Thornton. I love the textured, imperfect look of the sky & sunset patinas along with the random shapes & colors of the copper splashes & the hammered look of the brass owls.
I call the earring design,
"Under a Spell"
for the
mesmerizing
effect a gorgeous sunset has on us. I have found myself many times
standing in awe, enchanted,
under a spell created the
gorgeous
colors of the sky at sunset. The earrings are mismatched purposefully, and like an Autumn painted sky, coordinate in awesome blues and reds!
Patina Sunset...paint the sky with patina
Sept 18th : Deadline to submit
Sept 19th: Winners announced
Oct 1st: Bead Chat Magazine Feature
To enter and to see all the Patina Sunset Challenge Entries, visit Artisan Whimsy!